Welcome to the Black Magic Big Band's Website
The Black Magic Big Band is a 17 piece big band, plus vocalists, based in Galway, Ireland.
Featuring Galway's finest Jazz musicians, Black Magic Big Band is a very popular choice for nights out, weddings, corporate functions, festivals and private parties throughout Ireland.
The band is famous for it's 20-year-long Monday night residency, bringing its unique blend of Swing, Jazz, and Funk to Bar Cuba (since renamed to Bar903, and, most recently, McGettigan's) for the first 10 years, then Busker Browne's for the nearly 9 years, and, finally, Seven Bridgestreet up until late December, 2019.
News
RIP Tony McDonald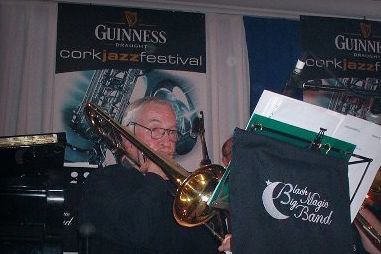 August 27, 2021
We say goodbye to a founding member of the band, Tony McDonald, who sadly passed away today. We are all better for having known him. A gentleman, extraordinary musician and entertainer, and good friend to all.
Tony arranged many numbers for the Big band in the early years, including his own song 'Hot Damn!', which was a favourite in the Jazz Masters' 20-year-long Sunday morning jazz session in the King's Head, Galway. He was instrumental in bringing the big band up to a professional level and was an inspiration for all jazz musicians, working in Galway today.
"A large pint of Guiness for a thirsty trombone player!"
Its time for another Album
April 2, 2020
It's been a long time since we could rehearse together, so we've started to collaborate on a lockdown album. All inital recording is happening in each player's home studios (with a lot of emails being passed between us) but if lockdown restrictions ever ease, hopefully each section will be able to come together in a recordding studio for more cohesive, natural recordings - and to enjoy playing together again. It's been a long lockdown!
Rehearsals put on hold for COVID-19
March 30, 2020
Our planned return to the rehearsal room has to be put on hold for the next while, due to the country's lockdown measures to deal with the Coronavirus pandemic. We'll keep an eye on the government guidelines and will return to rehearsals once it is safe to do so.
We hope you all stay safe and look forward to seeing you all when things return to normal.
An End to Our 20-Year-Long Monday Night Residency
December 20, 2019
After 20 years of regular Monday night performances, the Black Magic Big Band has decided to move away from the weekly pub performance model and is going back to the rehearsal room in the new year. We plan to perform in Galway, every month or so, starting in the spring of 2020.